Listen to stories that inspire and conversations that influence you to live your best life. Brian & Jenny Sweeney will explore the foundational elements that make up a life worth living. Guests run the gamut from fitness, nutrition, and lifestyle influencers to individuals that have mastered mindset, organization, and motivation. All of our conversations are geared towards helping you amplify your life and become the best iteration of yourself.
Episodes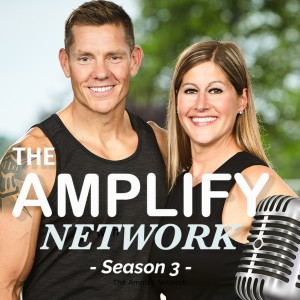 Friday Sep 10, 2021
Friday Sep 10, 2021
The third installment of the Supplement Mini-Series is here ... Branch Chain Amino Acids (BCAAs). 
BCAAs are definitely in our top 3 recommended performance supplements. In this episode, we review the benefits of taking BCAAs, the clinical doses, what to look for in a brand, and more. 
As with all supplements -  If you're on prescription meds, have existing health concerns, or are unsure of compatibility you must consult your doc first! Do your research!
Here is our current fav Aminos --> https://bit.ly/Driven-Aminos
👤 Connect with Team Sweeney: 
IG Jenny Sweeney - https://www.instagram.com/rtbjeneral/ 
IG Brian Sweeney - https://www.instagram.com/_briansweeney/ 
Twitter: https://twitter.com/raisethebar_va 
Facebook: https://facebook.com/fithumanproject


Next Steps
If you enjoyed this episode, please share it using the social media buttons you see on this page.

LEGAL DISCLAIMER: All information provided by Amplify Network, Fit Human Project, Raise the Bar, Brian Sweeney, Jenny Sweeney is strictly provided for educational and entertainment purposes only. Raise the Bar and/or Brian Sweeney is not providing medical guidance or promoting solutions or options that can treat illness or disease. This is not medical advice. No information is to be taken as medical or other health advice pertaining to any individual's specific health or medical condition. Please consult your healthcare professional before participating in or acting on any recommendation found in content provided by Raise the Bar and/or Brian Sweeney, or any affiliates of association. You agree that the use of the information contained in any content provided by Raise the Bar Inc. and/or Brian Sweeney is at your own risk. Raise the Bar and/or Brian Sweeney is not responsible or liable for any injury sustained as a result of using the content in this video or any other video.